Hardywood The Great Return West Coast IPA
USA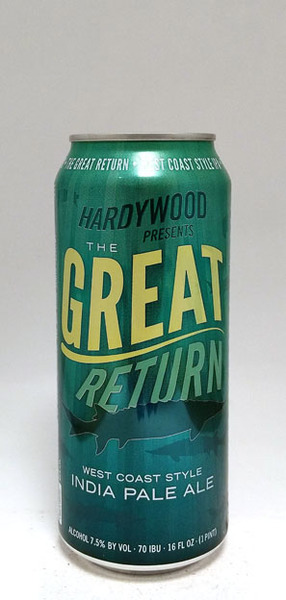 Single Price: £4.20
In Stock
Free Mainland GB
Delivery
(excl SCT Highlands) on orders over £100
Free Local
Delivery
on orders over £40
Free
Click and Collect
service
Free Gift Note service available during checkout
Big and bold West Coast style IPA brewed in Viginia USA.

This powerful IPA is resinous and bursting with bright grapefruit aromas. There's a whole range of tropical fruit flavours to be found within together bitter orange and piney notes. The subtle bitterness makes it nicely refreshing without being overpowering.

A good beer for drinking with barbecued meat.
Hardywood Park Craft Brewery
When Hardywood opened its doors in the city of Richmond, Virginia in 2011 it was one of ony two craft breweries in the city. Since then, thanks to a state law passed in 2012 allowing craft breweries to sell beer direct to consumers from their premises the city is now one of the premier craft beer centres in the USA.

During that time Hardywood, under the guidance of their founders Eric McKay and Patrick Murtaugh Hardywood has become one of the pre-eminent craft breweries in the state of Virginia. They currently have three breweries, two in Richmond and one in Charlottesville, and they're very much a key part of the state's vibrant craft brewing scene. Wherever possible they use ingredients grown in their home state of Virginia and their dizzying array of beers covers pretty much most of the styles to be found, traditional and cutting edge.
Producer Website